How to build a growth marketing technology stack?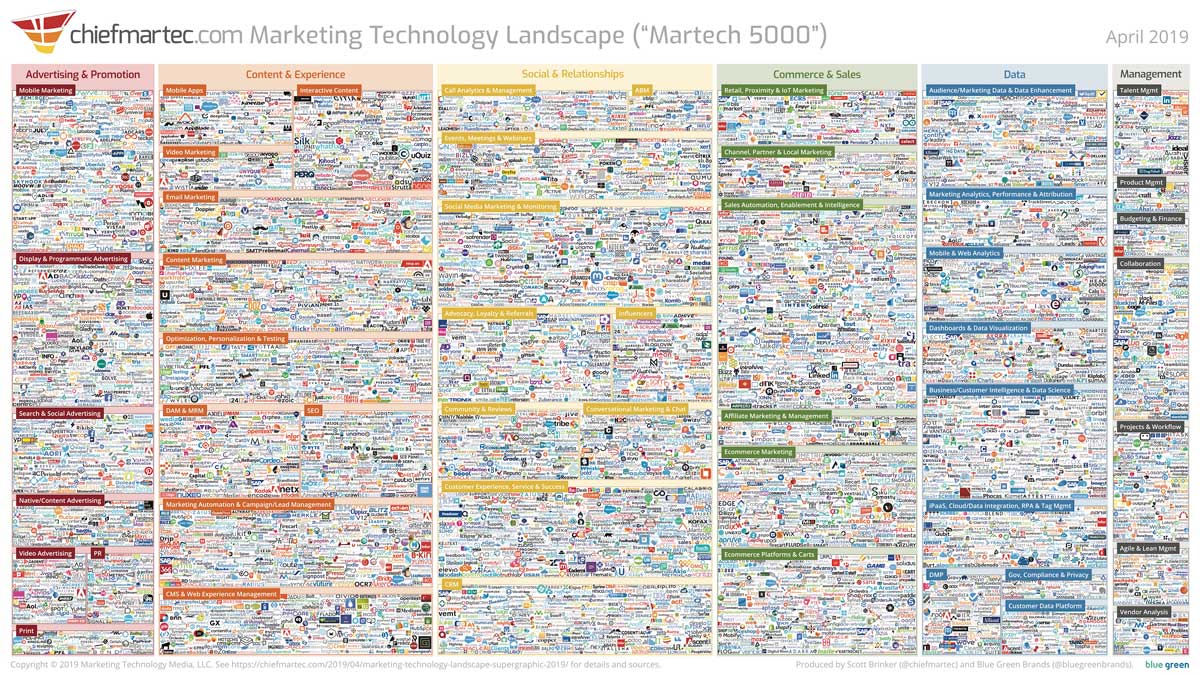 Is it worthwhile for a company to assemble its sales and marketing technology stack from stand-alone tools, or to choose one platform to handle everything?
Automation and the use of various technologies have exploded in recent years in both marketing and sales operations. There are many different tools on the market, and many of them are SaaS-based. Their implementation is therefore relatively easy and inexpensive.
Indeed, many companies have tools in their technology stack for marketing automation, website building, content optimization and targeting, advertising, social media content publishing, analytics and measurement, internal and external communication and collaboration, email marketing, testing, evaluations and customer data enrichment – just to name a few.
Actually, you could say that whatever the sales or marketing team needs to do to improve their work, there is a tool for that.
Chiefmartec.com´s Marketing Technology Landscape 2019 shows the rapid growth. In the first landscape infograph from 2011 there was 150 technologies – globally. The 2019 version is getting cramped since there is over 7000 different technologies. And it´s not slowing down. New tools are being developed at a fast pace.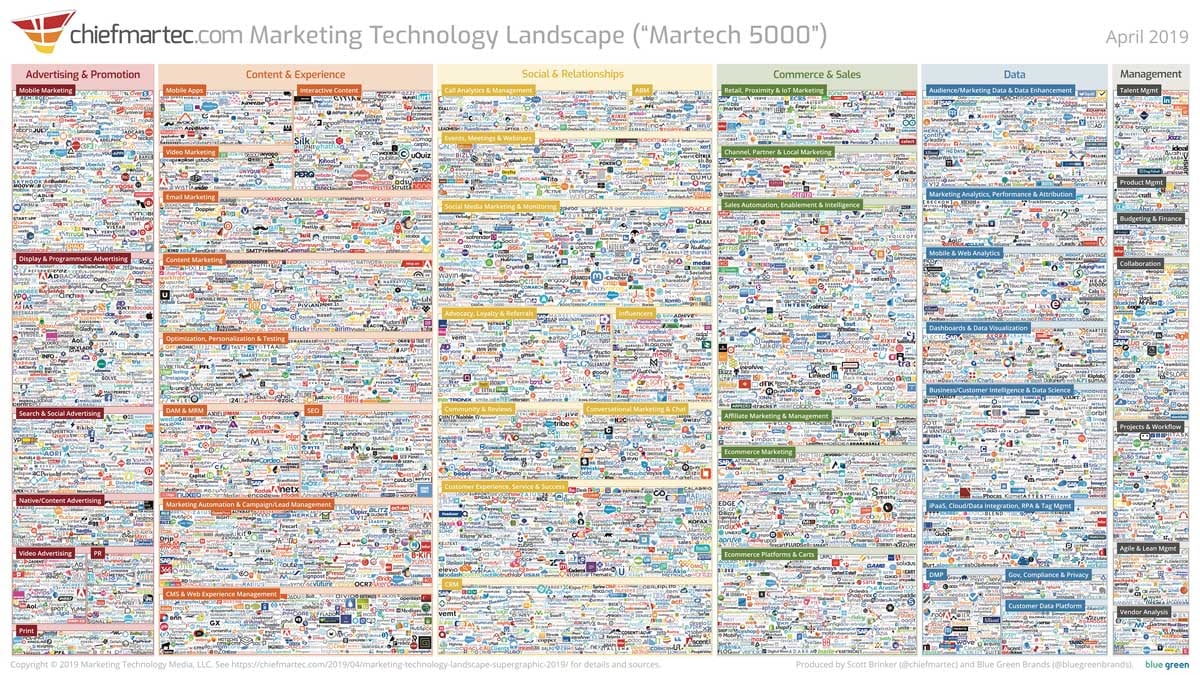 One platform or multiple tools?
Is it worthwhile for a company to assemble its sales and marketing technology stack from stand-alone tools, or to choose one platform to handle everything? How to choose the best tool for your business and for your own use?
One of the challenges of a fragmented technology stack built on a tool acquired separately for each marketing or sales "issue" is the difficulty of selection. Of the more than seven thousand tools, it is almost impossible to screen them for the best options for yourself without trying the tools first. This takes time and resources. Often, pricing is also built so that only some of the useful features are included in the freemium license. The end result may be that the company has up to several duplicate tools for the same need, or the company pays a license for a tool that is not used.
If all goes well, the tools will play together, there aren't too many of them, and there will be no duplication of costs. However, it should be remembered that the best tools in the industry probably include a lot of top-honed features from which you should take all the added value. Half-power tools rarely deliver full business benefits. Effective utilization, on the other hand, usually means that someone needs to know how to use the tool well enough. Are there in-house resources delve deeply into the life of each tool so that the tools can also be used?
One platform or multiple separate tools
| | |
| --- | --- |
| Pros | Cons |
| If the tool is already familiar, time won´t be wasted in the onboarding. | Every tool has its own logic, each should be addressed properly. Learning and coordinating many new tools takes time, effort and money. |
| When a technology stack is built by yourself, there is no need to commit to one system, but the freedom (and responsibility) to manage the stack remains with you. | In a stack assembled from separate tools, not all data may be made compatible, as some tools measure things differently than others. |
| Start-up costs remain moderate, especially when using free or at least very inexpensive tools. | While a free tool can be a workable solution in the beginning, often those really useful features are behind premium pricing. Costs may get out of hand. |
| When you assemble the system from the desired tools yourself, you get exactly the tools you need. | With the help of separate systems, it is impossible to get an overall picture of how marketing and sales works. You will probably need to build your own custom solution for reporting, perhaps with a separate reporting tool. |
A unified technology palette enables full utilization of data and puts the customer experience at the center
Instead of a tool purchased separately for each sales or marketing effort, an alternative is an all-on-one system, such as HubSpot.
HubSpot's growth stack is based on the idea that one unified technology creates the best conditions for business success. Therefore, in the HubSpot ecosystem, all contacts and the actions they take, the company's communication channels and data are under the same umbrella.
In order to do marketing and sales effectively, all data must be accessible from one place, and all tools must work seamlessly together.
The customer experience also remains consistent across the board, and there is no need to separately modify branding of an e-mail or chat window, for example.
Perhaps most important in a unified system, however, is that marketing and sales get a true 360 view of both the marketing funnel and the potential customer's journey there. Sales and marketing collaboration is facilitated by full transparency, as both view the same data.
Monitoring the productivity of marketing and the use of data in marketing development, in turn, is helped by the fact that the data is genuinely in one system and is also genuinely compatible. Email notifications of contacts left in various systems to collect dust will go down in history. Reporting comes with the package, and there is no need to build separate views, or effortlessly hoard data from multiple sources.
What things should marketing and sales technology be able to do?
When a company starts thinking about building its own growth marketing technology stack, it's a good idea to first think about what kind of challenges technology should solve. Most companies start out of these:
Publishing and managing your own website (e.g. website, blog)
Email marketing
Measuring, reporting and analytics
Improving and optimizing the user experience
Social media
Customer relationship management
SEO
Advertising
Project management
cooperation and communication
For example, the above-mentioned Marketing Technology Landscape lists tools by different categories, and global evaluation sites such as G2 and Capterra are a good help in comparing tools. The comparison should take into account the integration possibilities of the tools. Although most of the tools work seamlessly together, at least with integration tools such as Zapier or PieSync, there is always a risk of incompatibility when using different tools. When the background work is done carefully, the onboarding of the tools is even smoother.