GUIDE
Your ultimate guide to HubSpot CMS
HubSpot CMS is the only website content management system built on a CRM (Customer Relationship Management) platform. Read what this unique approach allows marketing, sales, and customer service teams to do.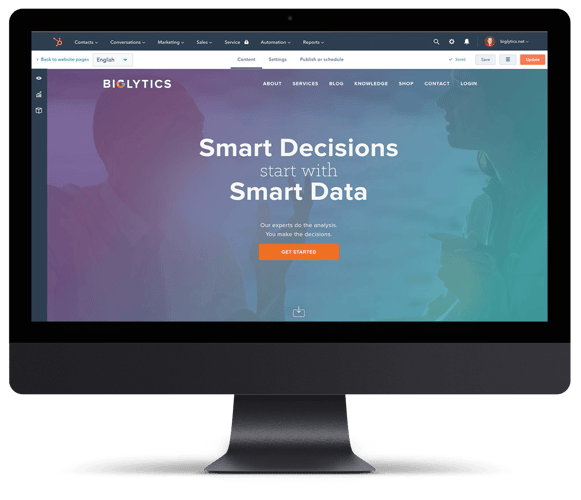 When you invest in HubSpot CMS, you get a single source of truth that empowers you to deepen your relationships with your potential and existing customers and provide a best-in-class user experience.
Before we take a deep-dive into HubSpot CMS's features and functionalities, let's start with some basic definitions. What is a CMS?
CMS stands for Content Management System.
As the name suggests, a content management system is an application organizations use to manage their online content (blog posts, landing pages, email copy, etc.).
Typically, a Content Management System allows multiple users to create and format content, store content in a central location, organize content logically, and effortlessly publish it online.
Managers and team leads can also use the CMS to assign user roles, such as editors, admins, etc. The ability to assign roles prevents confusion and ensures everyone understands their responsibilities.
What is different about HubSpot CMS compared to a traditional CMS?
A traditional CMS can be complex for marketers — even those with years or decades of experience — to use. A few reasons why marketers struggle with standard CMS solutions include:
Traditional CMS platforms are built with developers in mind.
Even simple tasks like modifying a page structure or updating site navigation might seem nearly impossible unless you are a seasoned developer.
A traditional CMS usually needs various plugins and add-ons to get things done.
Updating and re-designing your website with a CMS can be difficult.
Traditional CMS platforms are isolated systems that aren't natively integrated into your other marketing, sales, or customer service tools or your CRM platform.
HubSpot CMS differs from traditional CMS platforms because it's built for marketers. When you invest in HubSpot CMS, your website becomes a part of your business's CRM platform.
DOWNLOAD CHECKLIST
Is my website renewal a re-design or migration project?
Thinking about renewing or re-designing your website? Wondering if you can just push a button and change your Content Management System?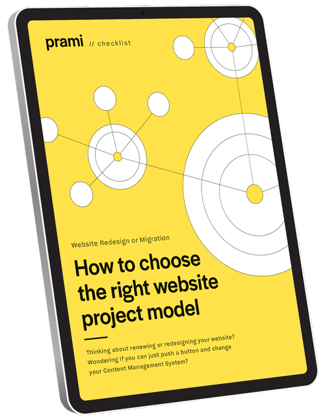 Scoping your website project right is the first step to success and to managing the different stakeholders' expectations. This checklist helps you to identify if your website project should be treated as migration or a re-design project.
4 examples: the benefits of HubSpot CMS websites
A CRM-powered website offers benefits that other platforms just can't compete with.
1. Use data to build personalized and sophisticated experiences
A CRM-powered website can show different content based on the contact's life cycle stage.
For example, existing customers can see contact information for support, and anonymous visitors will see contact information for the sales department.
You can also use a CRM-powered website to show different content based on a visitor's previous interests.
2. Leverage automation and scale your website
A CRM-powered website provides a database for creating dynamic content. With the HubSpot CMS platform, you can filter and present similar topics that interested a user previously.
You can also use marketing and sales automation processes to stay in touch with a visitor after they've been converted to a lead a shown interest in a particular product or service.
3. No need to rely on gatekeepers
With HubSpot CMS, you don't have to be an experienced developer to create new pages and sections or update content. You can rely on an easy-to-use drag-and-drop editor to get your stuff done yourself.
Not only is this approach more efficient, but it also ensures you get the exact results you're hoping to achieve.
4. Reporting on your KPIs and optimizing the website becomes easy
With HubSpot CMS, you'll have a much easier time generating reports on topics that matter.
Once you identify the KPIs (Key Performance Indicators) that matter most to your business, you can use features like built-in A/B testing to find out what works and what doesn't.
This approach helps you create effective plans and campaigns. Then, you'll be able to see results faster and set your business up for long-term success.
Lead generation
How to use your website to convert leads and close sales
With HubSpot CMS, you get complete visibility of a contact from when they first visit your website to the point they purchase and become a paying customer. You can track what is going on with your business and your online marketing strategy, too.
You have all the tools you need for lead generation, from CTAs, forms, and pop-ups to embedded calendars, live chats, and chatbots — whatever it is to make the meaningful conversion happen and track it.
Are you curious about the channels and touchpoints that lead to sales? Check your CRM — it's all there.
Book a free consultation to learn how to use these features to maximize lead generation.
HubSpot CMS: key features
HubSpot CMS also differs from traditional CMS solutions in its key features. It provides several perks that other CMS platforms don't or can't. Here are a few examples we value.
Speed, security, and reliability
HubSpot's SLA (Service-Level Agreement) for site uptime is 99.99%. Site uptime numbers like these are great for brands that want peace of mind knowing their customers will always be able to reach their site and learn about their products or services.
The content delivery network leverages multiple data centers around the globe to ensure that all HubSpot websites are constantly available and delivered quickly. It also offers 24/7 threat and security monitoring and customized security settings that you can tailor to your specific needs and goals.
While HubSpot takes care of the technical side of things, you can easily manage user permissions. This simple management process allows you to control who can view, edit and publish content. It also creates an even greater sense of security.
Effortless for marketers
With HubSpot CMS, you don't need to rely on various plugins and add-ons to get your setup to work for you. There are hundreds of approved, native integrations to customize the platform for your needs.
HubSpot CMS also pairs seamlessly with other HubSpot tools, including marketing, sales, and operations software. This simple pairing creates a more direct experience for your team and your customers.
Themes
Themes allow marketers to make larger-scale changes to the web content without coding or knowing CSS. HubSpot CMS provides numerous themes and makes it easy for you to choose the best option for your business, customers, and goals.
Drag-and-drop page editing
HubSpot's simple, drag-and-drop editing feature allows flexible content creation.
With this convenient feature, you don't need a new template whenever you want a new page or to modify an existing one. You just have to select what you want to change and move it to the correct location.
Multi-language content
You can use HubSpot to manage and optimize multi-language content. In-language variants of a page are associated together automatically, which helps you further streamline content management and better serve your target audience.
Optimized for SEO
HubSpot CMS offers Search Engine Optimization (SEO) tools that automatically give suggestions to optimize pages across the whole site, from deleting duplicate content to adding headings to make your content more easily readable.
With HubSpot CMS's SEO features, you can also organize your content into topics and build a pillar page strategy that helps you rank organically.
HubSpot CMS integrates with Google Search Console as well. This integration provides more data on how your content is performing in search engines and allows you to make more data-driven decisions in the future.
Use Smart Content and personalize user experiences
With HubSpot CMS, it's easy to personalize content with the help of your CRM data.
For example, you can show one type of content to existing customers and a different kind for first-time visitors. You can also use query parameters and show additional content based on the ad a customer clicked on.
Protect content with passwords
In the HubSpot CMS Enterprise package, you can also utilize membership logins. With membership logins, you'll be able to provide exclusive content to some team members and restrict access to certain pages from others.
Content staging
Content staging allows you to relaunch and redesign pages in a safe-stating area. For example, you can import your existing HubSpot-hosted pages or start creating new pages from scratch.
Content staging hosts pages on a sandbox domain. With this type of hosting, your current content won't get changed or replaced until you decide it's time to modify or replace it.
Comprehensive reporting
Finally, HubSpot CMS provides comprehensive reporting features. You can analyze critical factors like traffic, page performance, and contact attribution with in-depth reporting.
After analyzing these reports, you can identify trends and understand how your visitors behave. Then, you can optimize what is working and improve what is not to see better outcomes from your online marketing strategy.
How to choose the right partner for your website project
With so many different kinds of service providers out there, how do you choose the right one for you?
First, identify the purpose of your company's website in your ecosystem and the project's goals. Taking the time to clarify your purpose helps you find the right solution and partner.
Here are some questions you might ask yourself to determine your priorities. Evaluating different solutions and service providers becomes much more manageable when your website and business objectives are clear.
What is the ultimate goal of the renewed website?
Is it to make it easier for your internal team to manage the website?
Is it to make the user experience better?
Is it to generate leads and convert visitors?
Is there a technical issue that needs to be solved?
Your resources
What kind of team do you have?
Do you have internal resources?
Our solution
At Prami, we pride ourselves on offering unparalleled support to online marketers like you. The following are some specific advantages we provide:
Consistent guidance from technical specialists
An experienced project manager who will assist with every step of the process
Extensive CMS experience and knowledge of HubSpot CMS best practices
The capability to look at the big picture, along with in-depth competence to develop a website that helps you achieve your unique business goals
Commitment to accountability and a strong desire to help you maximize the benefits you receive from your CMS and website
An agile, non-hierarchical company that never wastes time on endless meetings or discussions
GET STARTED
Talk with our HubSpot CMS Hub specialist
Ready to maximize the benefits HubSpot CMS could bring to your team? Book a meeting with our expert and explore your options.