Guide
How to sell more and better with HubSpot Sales Hub
With the right platform, you can align the way you sell to the way your customers prefer to buy.
Talk with our specialist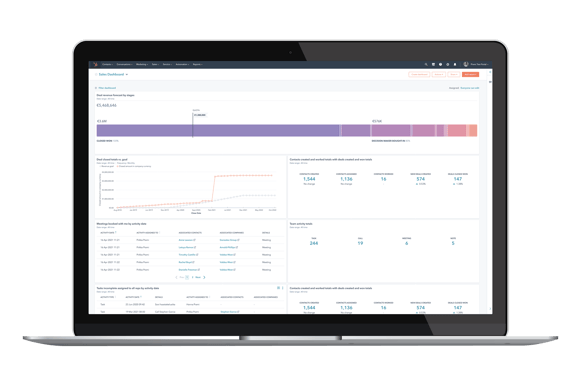 Only 34% of a sales rep's day is actually spent selling. The rest of their time is spent on data entry, tasks, and trainings.
In many companies, sales reps are constantly stressed about closing deals faster to hit their targets. In many cases, the sales reps, however, don't have a clear view of what sales activities are working and what are not. Instead of efficient use of time, sales reps spend their time on manual, redundant tasks and are not left with enough time to do the actual thing they are supposed to do, which is connecting with prospects, and nurturing relationships with potential customers.
In many companies, sales management and leadership lack visibility of their team's performance. There are no consistent and repeatable sales processes in place that the team would follow. Sales managers and leaders don't have a clear view of the big picture, which leads them to make strategic decisions blindfolded.
How does HubSpot Sales Hub make the life of sales reps and sales management easier?
HubSpot Sales Hub is a platform designed to eliminate unnecessary friction and bring everything into one easy-to-use central system. With the right platform, you can align the way you sell to the way your customers prefer to buy.
Generally speaking, a CRM system is typically a system for managing relationships with a business's customers. In a B2B context, this usually means tracking leads and customers, how they go through the sales cycle and how the company handles its customers. In a B2C context, a CRM system is commonly used to track sales efforts, the potential or existing customers' activity, or simply just to maintain a central list of all important information, such as leads and customers.

HubSpot Sales Hub is not just a CRM system or a bunch of sales acceleration tools, it is a platform in every sense of the word. When HubSpot Sales Hub is implemented right, it empowers sales teams to work efficiently, sales managers to coach and guide their team, and sales leaders to get a clear view of the overall health of the business to be able to make informed decisions.
Donwload
18 HubSpot Sales Hub automation features you should take advantage of right away
Be smart, and automate. Improve your sales team's efficiency with sales automation features that eliminate manual tasks. Streamline your recurring activities, use templates, and ensure no prospect is left behind. Use these automation features to be more efficient and save your precious time.
10 HubSpot Sales Hub features to love
HubSpot Sales Hub is packed with great features that help your team to be more efficient and sell better. This list is just the beginning.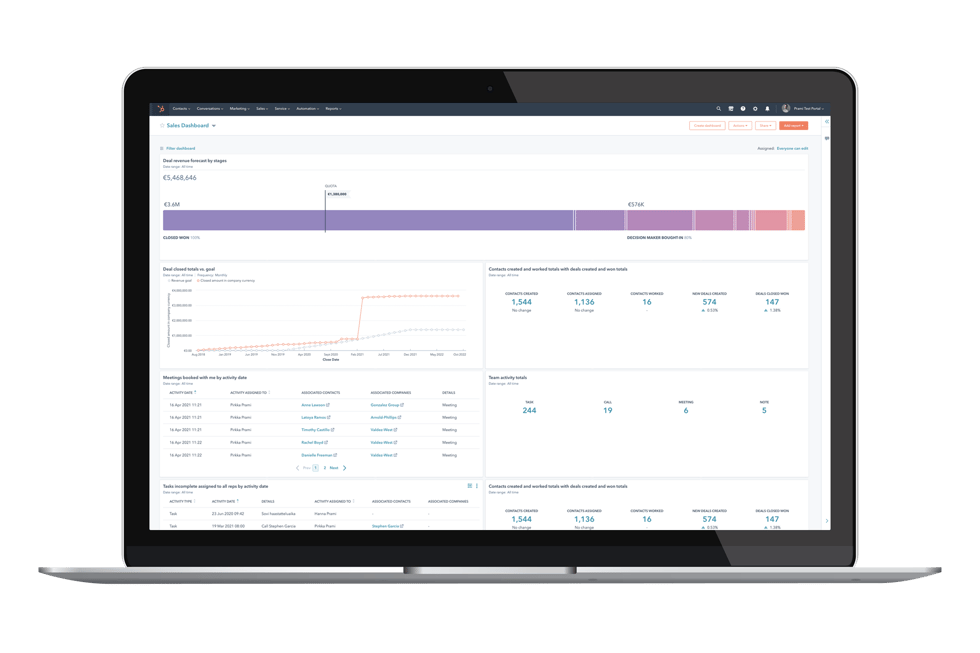 The meetings tool
Share a link with prospects or customers and let them see your availability and book meetings with you. Don't waste time on back-and-forth emails.
Reports and dashboards
See detailed metrics on sales activity and performance. The data will tell you how you are doing and what you should improve.
Team emails
Connect team-wide email addresses to your shared inbox. Use this to turn incoming emails into tickets, or send them straight into your shared inbox.
Deal pipelines
Keep track of deals and predict future revenue.
Custom properties
Associate specific data points with contacts, companies, and deals.
Sales automation
Automate your sales process and skip time-consuming operational tasks.
Sales analytics
Fully customizable, out-of-the-box reports that you can edit and save to your dashboards. Sales analytics reports give you insight into the overall health of your sales pipeline so you can coach your team and improve outcomes.
ABM tools and automation
Leverage company-based automation with ABM tools such as company scoring, properties, templates, and out-of-the-box reports.
Sales rep productivity
See how productive your reps are using the templates, sequences, and calling tools.
Automatic lead rotation
Create custom rules to automatically assign CRM records to your sales team.
Note: some features listed here are available only in the Professional and Enterprise editions. Please check up-to-date information on all available tools on HubSpot's product pages.
HubSpot Starter, Professional or Enterprise?
One option is to start with the "lighter" versions and upgrade as you grow and need more features.
HubSpot Sales Hub Free
There might not be a free lunch, but you can still get a free CRM. HubSpot offers a collection of free tools as part of its CRM platform.
Free tools could be used, for example, as proof of concept or for testing purposes.
HubSpot Sales Hub Starter
Starter is designed to give individual sales reps the tools to shorten sales cycles and improve close rates.
Starter is ideal for individual sales reps.
HubSpot Sales Hub Professional
Professional gives growing teams the tools to automate their sales process, unify their processes and align their team.
Businesses that utilize Sales Hub Professional typically are looking to improve sales teams' efficiency and accelerate the deals.
It is ideal for organizations with 1-12 active users.
HubSpot Sales Hub Enterprise
Sales Hub Enterprise is designed for advanced sales organizations. It gives them the sophistication they need to optimize and scale their operations.
Sales Hub Enterprise is ideal for organizations with an advanced tech stack, complex systems, and large sales organizations.
How to maximize the benefit of your HubSpot Sales Hub investment
In most cases, the challenges with CRM or sales technology implementations are incomplete communication and poor planning, inadequate training, and lack of change management. The outcome? Nobody uses the new technology.
For businesses to get the full benefit of their HubSpot Sales Hub, the tools must be set up correctly. The setup needs to be customized in a way that it serves the way the business operates in, while still being consistent with the operational logic of the system as well as industry best practices. An essential part of the process is expectation management. The key to success is ensuring the team is trained, and the outcomes are communicated to all stakeholders.
A successful Sales Hub implementation takes all the necessary steps to ensure a customer is ready to use the system. This includes things like migration from previous systems, installation, integrations with other systems, necessary customization, user training, and management of all accompanying business process changes.
It's important to note that even though the new system is set up to meet your business's goals, the new system will likely also change the processes and how things are done. In other words, some processes are about to change. A system change is an opportunity to get rid of old baggage and to improve more efficient processes and ways of working.
Technology alone is rarely the solution to problems, but a well-executed and planned implementation might just be.
HubSpot Sales Hub implementation best practices
When leading a HubSpot Sales Hub implementation project, it is necessary to have a solid implementation plan and good project management capabilities. It is essential to mitigate risks and plan well ahead and steer clear of possible roadblocks that implementation processes such as this usually come across. Experience helps to avoid common pitfalls that could potentially increase implementation costs.
For the project to be completed successfully, all the stakeholders should be aligned from the beginning. A successful implementation process keeps all project stakeholders up-to-date and involved throughout the process.
One key factor in a successful implementation process is to ensure that users adopt and use the new technology. Education and positioning the benefits of the new technology internally are essential.
If the implementation process fails, the decision maker who approved the new technology and initiated the implementation of the new technology will be at risk of losing his or her face. We must ensure the new technology adds value early on and continues to do so in the future.
Delivering successful HubSpot Sales Hub implementation projects
We have a vast experience with complex HubSpot Sales Hub implementation projects and are ready to help you maximize the benefit you can gain from your technology investment.
We make sure the necessary stakeholders participate in the project, clarify their goals and expectations and work closely with your champion to ensure a successful outcome.
We help you to communicate the benefits of the new technology within your organization and explain the process to all stakeholders. We identify the parts that need customization and keep the process on the right track and within the deadline. We guide the process through all the necessary steps and coach your team to use the tools.
GET STARTED
Talk with our HubSpot Sales Hub specialist
Ready to maximize the benefits HubSpot Sales Hub could bring to your team? Book a meeting with our expert and explore your options. You could be eligible for product bundles or discounts if you purchase your HubSpot licenses through us.